Cabinets, Covers, Brackets & Accessories
Cabinets
Cabinets are made of durable molded polyethylene with maximum UV protection, heavy-duty door gaskets to keep out dirt, dust, water, and chemicals.  Hinges and latches are made of reliable nylon.  Standard colors are red door with black box.  Some models are available with alarms or locks.
Wall or vehicle mounting
Polycarbonate windows
Left or right hand mounting
Built for years of trouble free service and protection
Heavy-duty door gaskets

JBDE72
Two 10-20 lb Bottles

JBDE73
20 or 30 lb. Cartridge Operated


JBWE70
One 10 to 20 lb. Bottle

JBWE95
For use with CO Extinguisher


JEBE06
One 10-20 lb. Bottle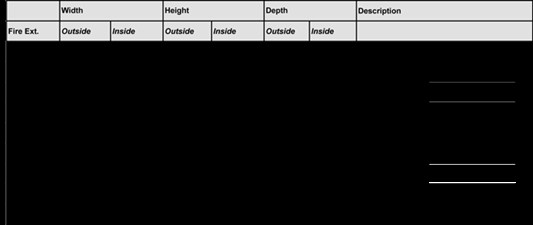 Cabinets – Mark Series
M2JM6 – Small Cabinet w/cover & locks for 5 Lb. fire extinguisher
M2JCR – Cover
M2M – Large cabinet w/cover & locks for 10 Lb. fire extinguisher
M2CR – Covers
More models are available.

067638 Cover 30 Lb RED LINE
More models are available
More models are available
---
Accessories (under construction)
Fire Extinguisher Sign
BL114